An Introduction to the 2646 Milwaukee Grease Gun
If you want faster grease application, then the 2646 Milwaukee Grease Gun is the best grease gun tool that you can use. This grease gun comes with an 18-volt rechargeable battery that provides you with two settings of power speed. For every square inch of pressure, it is capable of delivering grease up to 10,000 pounds. With its ergonomic design, you will not be having a hard time using it. You can even use it for longer periods of time since its weight is only 7.6 pounds.
A total of 10 fluid ounces per minute is its maximum flow rate. These are some of the reasons why many users have chosen to get this grease gun. These features are not observed in most other grease guns out there. It outperforms even the high-end grease guns from other manufacturers. Milwaukee has really leveled up in producing high quality grease guns that can keep up with the competition.
Features of the 2646 Milwaukee Grease Gun
One of the best things about the 2646 Milwaukee Grease Gun is that it offers you both unmatched versatility and maximum pressure. This translates that you will be getting an operating pressure of 10,000 psi. It also has a pre-set grease counter that enables maintenance and service professionals to release a precise amount of grease.
You can also choose to apply between max flow rate and max pressure with its two-speed design. With this much power, lubricating even the toughest and clogged fitting is possible. It can be done with ease through its powerful motor and long flexible hose.
It has a tube that can be easily detached for replacement or safekeeping. The necessary parts of the grease gun are included in the package so purchasing additional accessories would be a personal choice. Only a few of the users intentionally replaced some of the parts for more complex lubrication jobs. The actual unit is already very useful and can fulfill most standard works.
Other Features
Other special features that this 2646 Milwaukee Grease Gun comes with that you cannot see from other grease guns include a lock-off/lock-on trigger, an onboard LED light, and a plunger rod that comes with markings to help you get a good view of how much grease you have left inside of your barrel.
Convenience and ease of use are two of the features of this grease gun that have really stood out the most and made many users buy it. You see, it can stand up easily and can be strapped on your shoulder allowing you ease of use. Many of the users became less fatigued as well in using this grease gun with this feature. It has a comfortable grip that won't induce numbing to the hand. Its user-friendly design allows the user to maneuver the tool with only using a single hand.
Other than that, you will not have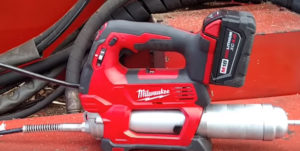 a difficult time in lubricating grease fittings that are hard to reach since its flexible hose can reach as long as 48". The hose quality is superb and can withstand the rigid lubrication environment. You can also choose to have a clear barrel accessory installed in it.
Its M18 REDLITHIUM battery pack is the reason why this 18-volt grease gun comes with a battery that can be used in a variety of tools. The users got this kit with a multi-voltage charger, meaning they only needed one charger to be able to charge their M18 and M12 lithium-ion batteries.
Operating the 2646 Milwaukee Grease Gun
A fully-charged battery can power up the grease gun for several hours, enough to do a single or two lubrication jobs. With regards to the recharge time, you do not need an entire night for two full batteries.
A single battery can be fully charged in around 3 hours as per reports of certified users. The overall factory warranty of the gun is 5 years with 30 days of guaranteed satisfaction and 2 years of battery warranty. The overall quality of the grease gun and its packaging will ensure you full working condition that can last up to several years. Availing the warranty is less-likely except in cases of accidental drops.
The LED light that is strategically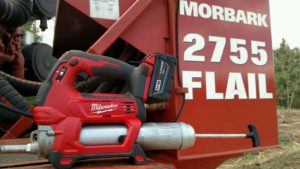 positioned on top of the nozzle is very useful on many occasions. Most of the time, it takes two people to successfully lubricate a hard-to-reach grease fitting. But with the LED light feature of the 2646 Milwaukee Grease Gun, even one-handed operation is possible. Convenience and productivity is certainly something this grease gun has to offer.
Professional Use
It is ideal for professional mechanics as well as regular consumers. It is very easy to use so it should not worry first-timers. A lot of the professional users have attested that this grease gun can perform as much as the most expensive grease guns out there. It can be used for several hours without any interruptions.
Many mechanics have been working with dump trucks most days of their lives and have been on the hunt for a grease gun that is not too bulky in the line of work they usually carry out. That is why they have decided to give this 2646 Milwaukee Grease Gun a try. They heard a lot of raving reviews about its higher PSI rating as well as better adjustable grease glow. Aside from the features they have made mentioned above, what really sold them was its warranty.
In Conclusion
Overall, they are happy with their purchase. However, a few reported that the battery provided with their kit did not work at first. They had to have it returned to the manufacturer. They have gotten back with a new battery after a few days. Thanks to the quick response and friendly customer service of the manufacturer, getting help is not much of a hassle.
There could be manufacturing defects that might have happened which is entirely normal for any manufacturer. This grease gun manufacturer is no exception. Hopefully, this will not happen to you because, in a nutshell, they found the grease gun effective in doing the job they expect for it to do.
Summary
Reviewer
Review Date
Reviewed Item
2646 Milwaukee Grease Gun
Author Rating