You cannot deny how helpful grease guns have become in a wide range of applications and industries. Today, grease guns have evolved from manually operated tools to battery operated cordless tools. And this article will focus more on the battery powered grease gun.
About 20 years ago, farmers and other individuals thought that this was all but a gadget and a mere trend. However, they were wrong.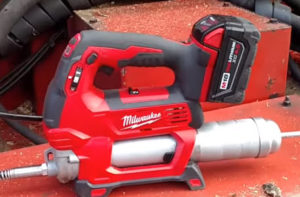 As the years have passed, these tools are no longer just any simple gadgets. But, they are now considered necessities in several industries and applications. In the present, you see these grease guns dominating machinery tool boxes and litter shop work benches alike.
As a matter of fact, newer and better models of battery powered cordless grease gun tools have taken the world by storm. Each of these models provides a wide range of features. And this is why you would find it much more difficult to choose the right one.
In the present, there are about 20 cordless grease gun variants being sold in the current market. And they are ranging between 12 and 20 volts in terms of size.
Battery Powered Cordless Grease Gun Today
Cordless grease guns typically come in 18 volts. Plus, they have become more powerful guns than you can ever imagine.
Of course, their existence does not mean that the less powerful cordless guns are not as effective. In fact, they can still carry out a wide range of lubrication tasks.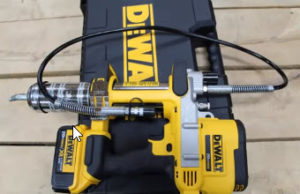 For instance, using a 12-volt grease gun that provides you a flow rate of 2 ounces per minute and a pumping pressure of 6500 psi is still five times faster in comparison to your regular manual grease gun.
Accordingly, battery powered cordless grease gun tools are different from manually operated grease guns in more ways than one.
What Makes Cordless Grease Guns Different?
Just looking at an 18-volt battery-operated grease gun, you will come to realize that you will be choosing between a number of features and sizes.
Even the design of the basic battery operated cordless grease gun has changed rapidly.
Some of these designs come with tools such as handles that are far from different from conventional configurations such as the pistol grip, like the DeWalt Cordless Grease Gun 20V.
Since the use of handles on these cordless guns can be set down on pads, you will be able to keep both of your hands be free to even take better control of greasing a part of an area of your equipment.
Besides voltage differences, cordless grease guns come in a variety of battery options. The most common variants are batteries made of lithium-ion (Li-ion) and those made of nickel cadmium (NiCd).
The use of NiCd batteries in cordless grease guns has been around the market for more than 25 years. The use of Li-ion batteries in cordless grease guns, however, has just been introduced about a decade ago.
Li-ion battery-operated grease guns are more expensive, and they come with a variety of benefit. Aside from Li-ion batteries having longer lifespans, they also:
– have superior energy density as reflected in amp hours or Ah.
– deliver a sustained level of power from being fully charged to being discharged, simply put, power will not fade as the batteries discharge.
– can be stored or put on standby for months without losing any of its charges, i.e., five times less than the discharge property of NiCd batteries.
– are not affected by memory effect that leads to the downturn of the storage capacity of the batteries.
– are mostly lighter, weighing between 15% and 25% less than NiCd batteries.

Another key difference between battery operated cordless grease gun tools and traditional grease guns, as well as other battery-operated grease guns, is their maximum operating pressure and flow rate.
You have the option to go with cordless guns that have a pressure of 10,000 psi with flow rates of up to 9 ounces per minute.
Deciding to go with this level of performance for your grease gun will have to depend on how much lubricating work you need to get done in the shortest possible time. The power of a cordless grease gun also depends on the age of your equipment, e.g., old, plugged zerks vs. new, free-flowing zerks.
There are recent models of battery operated cordless grease gun tools that come with variable speed triggers. This type of grease gun allows you to easily calibrate grease gun aspects and the flow of your grease gun as needed. And the latest in variable speed is the two-speed type.
Actually, it lets you decide if you should be going for maximum pressure at a lower flow rate or maximum flow rate at a lower pressure.
The former option is best utilized for older equipment with plugged zerks. The latter option, on the other hand, is best utilized for greasing combination equipment.
Buying Cordless Grease Guns
If you are considering getting a battery powered cordless grease gun, it is important that you know how to shop around. And while shopping around, you should be able to ask about the construction of the grease gun options that are presented to you.
Basically, cordless grease guns come with hardened pistons. These pistons then operate with the help of a planetary gear drive that is found inside a plated steel barrel.
The use of garage guns made of a robust housing and an all-metal drivetrain is recommended for harsh work environments. This ensures that your tool is protected against breakage. Also, it will be able to withstand being dropped countless times.
Factors You Should Consider
Since the range of product is quite wide today, these are some of the factors that you need to consider. When you effectively regard these points, it will be easier for you to get the best cordless grease guns.
• LED work light that is recommended when lubricating of equipment is done at night
• Pressure relief valve or electronic shutoff valve that will keep the motor of your gun protected from excessive pressure while being able to identify blocked fittings or bearings
• Counter dial that you can set to be able to limit the amount of grease your gun dispenses
• Hose length that ranges from 30 to 42 inches.