Do you want to know how to bleed a grease gun?
A grease gun is a tool utilized for lubrication. And you would commonly see it among garages and workshops. It only becomes viable when it is capable of taking full control of the flow of grease that comes out of its grease tube.
One characteristic trait of grease is that it is slick. Because of this, it becomes difficult to monitor. It can also be both difficult to clean and smelly.
So, if you will be using this lubrication tool, it is important for you to know the best and right way to load a grease gun.
If you are still learning how to use the grease gun, it is crucial that you have some idea about the basics of certain mechanical couplings. Of course, you also need to know how to properly use this tool and how to bleed a grease gun in the right way.
Learning How To Bleed A Grease Gun
Once you make the mistake of applying grease to areas that it does not belong to, you will just be attracting dirt to it. And you are just causing harm to the tool.
Most of the time, the area where you should not be applying any grease is close to the area where you must apply it. That is why you have to know how to properly make use of a grease gun tool.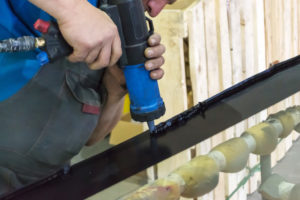 After acquiring the knowledge, skills, and experience of using grease guns, expert handymen have come up with some techniques to put grease rightfully.
They are experts in hitting the part where grease is needed. This is done by placing the grease tube nozzle in the right position.
Managing grease guns
For first-time grease gun users, this may just be very simple. However, the challenge now starts with what happens after the grease gun is properly positioned.
Usually, controlling the flow of grease becomes a challenge even after the proper position of the grease gun is done.
Grease guns are typically used in heavy-duty mechanical applications and automobile applications. Furthermore, they are also used by farmers and regular homeowners.
Well, most mechanical parts of a machine go through regular erosion and rubbing. In order to keep the parts of your machines running, you have to regularly lubricate them. And one of the most effective ways of lubricating them will be to use a grease gun tool.
The Right Lubricant
Generally, there are two types of lubricants that are utilized on grease guns. You have silicone grease and lithium grease.
If you look at your regular auto shops and home improvement stores, you can easily find these lubricants. What follows are some tips on how you can bleed a grease gun effectively.
Tips and Hacks
Here are some tips on grease guns that you may apply as you use it.
Before using a grease gun, you have to fill it with your lubricant of choice. You can do this by unscrewing or opening the top portion of your gun head. This part is also where you can find the nozzle that is responsible for expelling the grease.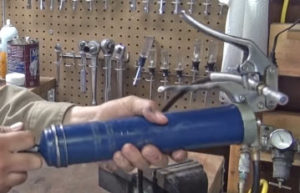 Make sure that you will be separating the head from the cartridge, the part that holds the grease. What happens next is the challenging part, the plunger evacuation.
Plunger evacuation
For this particular process, you have to be pulling the handle that is connected to the other end of the gun barrel. This barrel is one that you can find far from the head portion of the gun. You have to pull this handle until you see that the whole of the cylinder bar is already outside.
From the space that is given within the barrel, you then proceed to snap the pole. This is to ensure that the bar stays up while you are still removing the cartridge.
What you do next is to remove the old grease found inside your grease gun. This can be made possible by shaking or tapping the grease out of your gun.
When you are finished removing the plastic protective encasing, you proceed to reinsert the cartridge. You then proceed to pump your grease gun a number of times.
Make sure that you secure the head and barrel unit after you are done removing the metallic top of your new cartridge.
You can only fix your head and barrel unit once when you are done pumping the gun and see grease go out of the dispensing portion of your gun.
If you are done with the process, make sure to wipe all of the excess greases. You can prepare your gun for greasing again once you have fixed the head and barrel unit of your gun.
Using Grease Guns
The use of grease guns should be done in a safe and secure manner. A number of professionals have tried harming their hands, fingers, and wrists all because they are not aware what security measures to practice.
So, you must not neglect to follow safety tips to avoid harming yourself.
A lot of auto repair shops make sure to use needlepoint fittings. This actually helps determine the cut and how the grease must be filled in the polymer-fixed orientation.
Pneumatic
Making use of a pneumatic grease pump entails applying weights between 246 and 5000 psi. When the needle accidentally slips and penetrates into your skin, you can expect the grease to go into your palm or wrist.
One great example of a pneumatic grease gun is the Lincoln 1162 Grease Gun.
Manual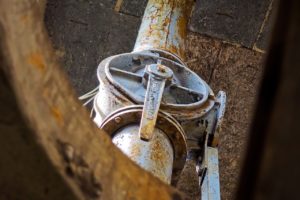 Manually operated grease guns ensure to protect your hands and fingers from getting grease that turns out at a speed that is more than 10,000 psi.
The use of manual grease guns is basically more secure in comparison to air grease guns or pneumatic grease guns.
By using a manual grease gun, you will be able to hold the tool with the use of both of your hands making it more secure.
Now, if you want to learn more information on how to bleed a grease gun, you may check this video: