For any mechanic, the DeWalt Cordless Grease Gun 18V is something that cannot go unnoticed. It is one of the most powerful grease guns in the industry.
And if you are looking for a great grease gun, then this might help you in your search!
The DeWalt Cordless Grease Gun 18V Review
It has a powerful motor that has a rating of 9,000 maximum PSI. It can power through any grease fittings, including clogged ones.
Efficient
The DeWalt Cordless sports a high-volume pump that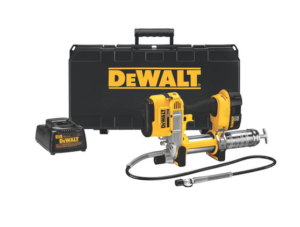 can push up to 5 oz per minute of high-flow applications. The speed can be adjusted for a more precise control of the grease flow.
Moreover, it includes a 42 inch-long flexible hose that is designed for reaching impervious grease fitting. Other than that, a bright LED light can also be activated to assist in low-light scenarios.
Convenient
What's more is a pump mechanism that prevents dirt and clogging for longer life. The safekeeping and maintenance of this grease gun are not much of a hassle. Because it is highly resistant to dirt and clogging, wiping the interior parts of the grease gun is very simple.
Most of the parts can also be easily detached without the need for unscrewing. Many of the verified users experienced a less messy lubrication job by using the DeWalt Cordless Grease Gun 18V.
Features and Specifications
The powerful motor of the DeWalt Cordless Grease Gun 18V is its best feature. It delivers an extra pack of job where other grease guns fail. It can lubricate even clogged grease fittings which is a pivotal moment for any mechanic.
Many of the users had a great experience with this grease gun. Many of them own several other grease guns but this one is definitely their most comfortable to use.
It's user-friendly and its zerk is already installed on the gun out of the box. Preparing it for use isn't so much of a hassle, unlike other grease guns.
Usage and Preparation
Many users did not have a hard time on the set-up. It is self-priming which many users find very convenient since they use the grease gun on a regular basis.
It has an air-bleeder valve that assists in pump priming after you change the cartridge. Its lightweight optimizes one-handed operation, not to mention the gun is equipped with a release trigger that controls the flow of grease.
With proper handling, you won't experience a messy lubrication job. Its grip feels very comfortable to use and many of the users liked the almost no-vibration on the grease gun when being used. It is usually the most common reason for palm sweating and numbing during long hours of usage.
Safe-Keeping
Also, it features an integrated no-mar foot design that allows the user to rest the tool on flat surfaces. This is something that most other grease guns do not have.
When not in use, the grease gun can be placed on any flat surface without any worry on grease leakage. For as long as the handle is not pressed, any unlikely leakage of grease is almost impossible.
Its extra long hose can be maneuvered around large equipment, even into tight fitting spaces.
LED Feature
The LED spotlight is also another convenient feature of the gun. A lot of the users have tried utilizing it and they said that it did a decent job in lighting out the area.
Most mechanics normally have someone else light up the grease area so this is definitely a plus.
The lighting feature of this grease gun is not common to most pistol-type grease guns. It is securely installed on the nozzle which makes the lighting feature more usable in many situations.
It is a feature of the grease gun that is not definitely responsible for most of its cost.
Storage and Maintenance
About the safekeeping and maintenance of the grease gun, the DeWalt Cordless is a pure time-saver.
It has an anti-debris filter that prevents dirt and contamination from clogging in the pump. Cleaning the gun won't require too much work since it does half of the job by itself. Changing the cartridge is also very simple.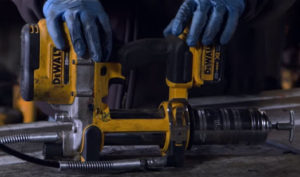 The tube can be detached and reattached without any complex procedures. Once a new cartridge is inserted, the grease gun can already be used also immediately thanks to its self-priming feature.
The cartridge may be easily detached but it fits perfectly to the valve. This means that there will be no chances of the tube dropping off accidentally.
Build and Structure
Its structure and design are specifically built for a more convenient use, especially for professional mechanics who work all day in the workshop. The lubrication environment can be very harsh which is why DeWalt has made a few tweaks on their new grease gun model.
This grease gun has a metallic finish that is not just for the aesthetics but for added durability as well. Several users of the grease gun find the design very stylish but they wished more color choices are available.
But even so, the DeWalt Cordless Grease Gun 18V is already a powerhouse in itself.
The build quality of the grease gun is solid. It has a metallic design for added durability and rubber grips for comfortable use. This is definitely a must-have for any mechanic who wants a more convenient lubrication job.
It is usable for almost all kinds of lubrication scenarios without the need for additional accessories. The product is already a built-in powerhouse. The parts are sturdy and obviously high-quality. You can really notice the meticulous manufacturing up close. The product also comes in a 3-year limited warranty although you won't need that anytime soon.
Overall, this is a grease gun any mechanic should consider having.
A Word on Choosing Grease Guns
When choosing a grease gun, the brand is a huge factor in determining the quality. DeWalt is already a reputed brand for grease guns. They have produced several other grease gun models and each of them was a success.
The DeWalt Cordless Grease Gun 18V is a new addition and an upgrade to its previous model. It is powered with a high capacity battery that can last for several hours of uninterrupted use.
Summary
Reviewer
Review Date
Reviewed Item
Dewalt Cordless Grease Gun 18V
Author Rating