What made many mechanics want to get the Lincoln 1844 Grease Gun will have to be the many features that it comes with.
And if you are wondering what these are, just continue to read on. But if you are more concerned about what a grease gun must basically have, this post might help you.
Even so, what you will learn after reading this piece will help you decide if the Lincoln 1844 Grease Gun might be the best option for you.
Features and Specifications
If you will be getting this grease gun, you should expect it to come with a heavy-duty carrying case. This case is then molded from stain- and impact-resistant plastic.
They got their own complete with a 110-volt one-hour charger, an 18-volt NiCad PowerLuber, a 30-inch high-pressure flex hose with a spring guard, and a battery.
Grease Gun Operation
In order for you to operate this grease gun, you will need a 18-volt NiCad rechargeable battery. The fact that it is rechargeable is already a plus for most standard pistol-type grease guns out there.
It can provide up several hours of uninterrupted usage. The charging time is also quick with its fast charging capability.
Most other grease gun models take several hours to charge with only a few hours of uptime. The Lincoln 1844, however, can provide you so much more power.
What To Expect With the Lincoln 1844 Grease Gun
So, what makes this Lincoln 1844 Grease Gun stand out better from the other Lincoln grease gun models?
One of the add-ons to this grease gun that has made many users want to get it will have to be the second rechargeable battery that it features. The kit comes with an additional 14-4-volt NiCad rechargeable battery. Having this second battery has turned out to be very beneficial among those who intend to apply uninterrupted lubrication.
Here are some other features that you can expect from this grease gun:
• It comes with a pressure relief valve and a dual motor protection-circuit breaker.
• It comes with an ergonomic and a well-balanced design making it very comfortable to use.
• Combining high-capacity NiCad Battery with high-torque motor allows excellent run time and performance.
• Trapped air is purged out of the grease gun because of its high-efficiency combination valve.
• It performs excellently for high-pressure lubrication uses.
• Grease output can be measured much better with its patented stroke counter.
• It comes with a two-speed design that allows for versatility: you have the high-pressure or the high-volume options to choose from all depending on your lubrication needs.
Improvements Made
The Lincoln 1844 is an upgraded version of its previous Lincoln model. Lincoln has heard the feedbacks of the users of the predecessor grease gun so they made developments with this new model.
It offers bigger battery capacity and faster-charging speed. The design did not change that much but its performance has greatly improved.
Most of the users noticed the change and have become more satisfied with the grease guns manufactured by Lincoln.
Lincoln is already an established company with a good reputation for creating high-quality grease guns. Most of their grease gun models, if not all, were big hits to the industry. The user-friendly design of Lincoln grease guns is what most first-time users are attracted to. They are easy to assemble and easy to use.
Using The Grease Gun
The grease just comes out smoothly while the handle is pressed and it does not create unlikely leakage when not in use. Furthermore, the grease gun can be easily cleaned.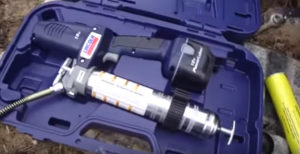 The tube can be easily wiped clean after detaching the part from the actual grease gun. The grease gun is not that big so it can safely be stored inside a standard-size box.
Most of the users suggested disassembling the tool first before storing it. It can improve the lifespan of the grease gun as well as maintain its optimal working condition.
Who Uses The Lincoln 1844?
If you are going to be doing a lot of lubricating or greasing work, which reflects that this is your profession, then it is recommended that you get this Lincoln 1844 Grease Gun as many users did.
This is the ultimate grease gun for those who are working in shops or in the field of grease work. They have been dealing with heavy equipment in my profession. And to tell you, this heavy equipment and machinery never run out of grease to use. Utilizing a tube of grease in a day is always expected when dealing with them.
Many mechanics deal with excavators on a regular basis and though they have fewer grease fittings, you will have to clean tracks. And clearly, this is something they do not want to be starting or ending my days with.
Though backhoes have wheels, you have to use over 20 grease fitting varieties. A tractor-trailer also utilizes about a dozen grease fittings.
Though air grease systems have been at the back of their minds, they are not easily available in the area. And every time they are on their back greasing something, the use of air hose is just a pain to live by.
The grease gun has a self-priming feature that many users have found very convenient for daily use. Grease with air just won't do in any lubrication job which is why proper priming is critical.
Convenience and Reliability
Priming for other grease guns is not as fast as this one does. It releases the air out to provide smooth releasing of grease once the handle is pressed. Unlikely grease leakage is also hindered inside the tube area when the device is not in use.
The size of the grease gun, along with its comfortable grip, makes it very convenient to use, especially for high-intensity lubrication jobs. Many of the users operate the grease gun with just one hand so they can maneuver the nozzle on the other for tight fittings. It can also be safely stored in a small container after detaching the used cartridges.
With the Lincoln 1844 Grease Gun that many mechanics have purchased, its quality, ease of operation, pressure, battery life, and system have made all the above tasks that much easier for them.
This is a must-have for any heavy equipment operator who takes charge of your own machines as many users do. Even owner operator truck drivers should get this one. You can never imagine living my life without this product.
Summary
Reviewer
Review Date
Reviewed Item
Author Rating