Maintaining and cleaning your grease guns are very important things that you must do. While grease guns are not entirely too expensive, buying one will still cost you a few hundred dollars. So, it is only fitting that you clean and maintain the tool if you want it to last long. And one of the things you must consider when maintaining or cleaning the tools is the proper grease gun storage.
Apparently, storing your grease guns in proper and appropriate places will help you maintain its overall quality. The same is also true for greases and lubricants. But, in this case, you must focus more on your tools.
If you want to learn more about the proper ways of grease gun storage, then you have to right place. This post will feature a few tips and notes that you may apply when storing grease guns. It is also worth noting that these tips all came from the pros and experts in the field. So, you may find these things really helpful on your end.
Proper Grease Gun Storage
There are several notes that you will need to consider when storing your grease gun properly. Not only that these things will help you maintain the tool, but, these will also lessen the mess and dirt in your working space.
Horizontal Storage
All grease guns must be stored horizontally. This is because it will help the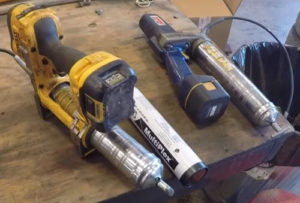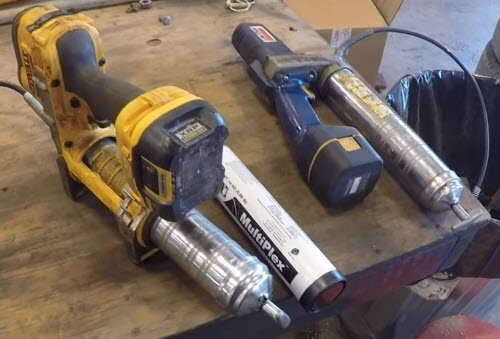 tool maintain itself and will lessen the risk of immediate deterioration.
When placing the tool horizontally, you must ensure not to "overexert" the spring and the plunger. As it happens, this will only result in immediate wearing. Also, this will alter the amount of grease or lubricant that tool exerts on a normal basis.
Another thing that you must remember is to hang the grease gun. This will help the leakage to flow freely without any pressure. Plus, it will lessen the mess of the leaks.
Storage Conditions
When regarding the proper ways of grease gun storage, you must consider the place where you will store the tool. It is important that you keep your best grease guns cool and dry when stored. Accordingly, it is a must that you ensure first the condition of the storage location.
As per experts, it is best if you store your grease guns inside a cabinet where the temperature is controlled. In addition, you must make sure that no amount of moisture will be present or exist inside. This is because it will cause harm and quicker deterioration on your grease gun.
An appropriate grease gun storage must well-regard these two things: water and heat. The reason behind is that they are the top two "oxidation accelerators," which, of course, you would want to eliminate.
Label The Cabinets and Tubes
When storing grease guns, as well as tubes of grease, you may want to label the cabinets and tubes. In the labels, you may include the type of lubricant or the product name and the model of the tool.
For instance, "Lincoln 1844 : name of lubricant or grease" for the model in this Lincoln 1844 Grease Gun Review. This is much more useful if you have several grease guns in your workspace or workstation.
Here is a quick video that may further help you with proper grease gun storage: