The 1056-SE4 Alemite Grease Gun might be the right one for you and your needs. And this review will help you know if it could be the best grease gun for you!
Introduction to The 1056-SE4 Alemite Grease Gun
For a long time, it is common knowledge among grease gun users that Alemite grease guns are made to take care of demanding lubrication purposes.
These grease guns come with unique and innovative designs, making them perform in excellence. This company also ensures to pay close attention to the production of only quality and durable grease guns.
In personal opinions that a lot of people will have to agree, the grease guns and accessories that Alemite produces ensure to keep your lubrication tasks more productive.
If you are thinking of upgrading your manual grease guns, you should consider getting the 1056-SE4 Alemite Grease Gun.
A Quick Look on the 1056-E4 Alemite Grease Gun
These heavy-duty grease guns have been made for lubrication professionals. Basically, they are the best of the best when severe lubricating conditions are in question. They can easily satisfy the toughest lubrication tasks.

This all because of its rugged body, a cast iron or die cast steel-head and a follower construction.
This grease gun packs a lot of power and functionality which many professional mechanics would find very convenient. But even so, this is also recommended for first-time users due to its user-friendly design.
The package comes with an instructions manual for the setting up and uses of the device.
Features
Before telling you more about the experience of using the 1056-SE4 Alemite Grease Gun, here are some features of this grease gun.
This grease gun variant basically comes with a bleeder valve, a 16-oz cylinder capacity, and a gun outlet that is 1/8" NPTF. It is also a zinc plated finish and a rigid coupler and extension.
This grease gun is capable of producing up to 10,000 psi worth of pressure. It comes with a dual lever mechanism that enables high-pressure delivery or high-volume output.
For exceptional durability, its head is made of die-cast steelhead. With its patented follower, bulk or cartridge loading is made possible without having to disassemble the grease gun.
It has a three-way loading system, meaning you can use a fast refill, a suction, or a 14-ounce cartridge from its loader pump.
For a more comfortable and surer grip, it also comes with a vinyl cover. Instead of the typical rough rubber grips that other grease guns offer, Alemite took the risk in using a vinyl cover.
So far with the reviews of certified users, they find the vinyl grip more comfortable in single lubrication jobs.
Users experience less numbing in the hands even after long hours of uninterrupted use. The stylish finish of the grease gun is also something to notice. It looks simple but it packs a lot of power in it.
Experiences
Now, here are the experiences with the 1056-SE4 Alemite Grease Gun.
Before buying any product and in this case a grease gun, many people always make sure to do some research work. Upon research, they have learned that this particular grease gun is the only one among the other Alemite grease guns that have been made in the US.
Cost and Expenses
Many users think that this may be the reason why it is quite expensive compared with the other grease guns produced by Alemite.
This basically implies the cost that this manufacturer has to pay the workers in coming up with this high-quality product.
Even so, despite this high price, they are very much happy with the overall finish, fit, and function of this grease gun.
Build and Structure
The build quality of this grease gun is just top of the line. You can really see up close the meticulous manufacturing and assembly of the device.
With just the first glance, you can already tell that this product isn't cheap. It also comes with a warranty period that you could avail if you have any issues with the grease.
Warranty Terms
However, for most users, the warranty is just a perk they could not use because the product arrived at mint condition. The manufacturer sure knows how to value their customer's money and time.
The packaging of the grease gun is superb which is why transit won't affect its quality and condition. If you think that this gun is just too long to be going into certain areas in need of lubrication, then they suggest you get the locking swivel over the flexible extension.
Drawbacks and Cons
The use of a flexible extension for this particular grease gun will have to be the only downside as it requires you to use both of your hands to pump it.
You will not be having any freehand anymore to keep the flexible coupler or extension in place on the zerk. This will eventually cause you to have grease going just about anywhere.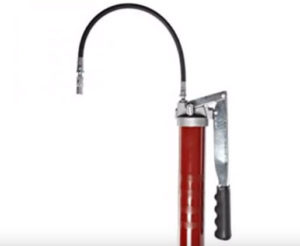 But adding or replacing parts on the grease gun won't be necessary for standard lubrication jobs because the original parts would already suffice. For most users, the grease gun itself can already do so much work and purchasing add-ons would just be for contingency purposes.
In Conclusion
Overall, the 1056-SE4 Alemite Grease Gun is a must-have for any technician out there. It can perform well in any type of lubrication jobs, be it in industries or personal use.
The Alemite outperforms most standard grease guns in the market today. Its price is not much of a big deal as well.
For a grease gun that has high quality and strong performance, the Alemite grease gun is already a good deal.
What's more is a warranty period from the manufacturer. Since Alemite is already an established company of grease guns, they have greatly improved in providing assistance to clients who are experiencing issues with their device.
Most of the users did not experience any trouble with their grease guns so availing the warranty won't be something they'll do anytime soon.
Customers who ordered the product received it in just a few days and the packaging is really secured. The parts need to be assembled first but it is not that complicated especially when following the guidelines indicated in the instructions manual.
The 1056-SE4 Alemite Grease Gun is definitely a grease gun worth having.
Summary
Reviewer
Review Date
Reviewed Item
1056-SE4 Alemite Grease Gun
Author Rating