With the apparent fame of the DeWalt Cordless Grease Gun 20V today, it is only fitting that many consumers want this. But, is it the best grease gun for you?
An Introduction To The Dewalt Cordless Grease Gun 20V
Many users have realized that most of the recent models have the features of applying accurate amounts of grease. Also, their grease fittings are very accessible.
Accordingly, these are the features that are being offered by the Dewalt Cordless Grease Gun 20V that many users have come to learn.
High power Grease Gun
The 20V MAX* XR premium Li-ion battery that it comes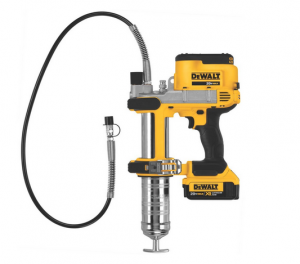 with has the power capacity to last up to 16 cartridges. It comes with a motor that can deliver a maximum of 10,000 psi that has allowed them to work through various jobs.
Many of the users have used this grease gun for applications requiring high flow amounts. And thanks to its pump that can dispense up to five ounces of grease per minute.
Reliable in several tasks
It also comes with variable speeds that ensure precision of grease application. It has helped them work through jobs in various workspaces with the bright onboard LED lights that it comes with.
You can even easily reach most grease fittings as it comes with a hose that goes as long as 42 inches. As for the most part, there will be no need to purchase additional accessories for the grease gun as it can already do many lubrication jobs by itself.
It already has a rubber handle for convenient grip and a metallic head casing for added durability. However, some users have reported that making tweaks to the grease gun will further improve its performance. Maybe for high-intensity lubrication jobs, that will be needed.
Comparisons and Competitions
DeWalt has stepped up in the competition of producing the best grease gun in the market. The company has already succeeded in manufacturing high-performance grease guns and they even made an upgraded version of them.
This new grease gun outperforms most other grease guns in the market. Many of the users who have tried using other grease gun models noticed the difference in performance with the DeWalt Cordless Grease Gun 20V.
Power and Efficiency
It packs more power and can withstand the harshest environments of lubrication. This grease gun has a flexible hose that can be used in reaching through any type of fittings, even clogged ones. It has a smooth grease flow after a quick priming. Most of the users said that the priming of this grease gun is by far the fastest.
In comparison to manual grease guns, the Dewalt Cordless Grease Gun 20V has cut down in half the time it took most users to use their previously trusted manual grease gun.
If you work in the automotive repair, manufacturing and MRO, heavy equipment maintenance, and agricultural industries, then this is the most ideal grease gun option for you. Its high-capacity battery can boot up the device for a few hours.
Convenience in Operation
It is cordless which means that one-handed operation is optimal, even for long hours of continuous use. The charging cable of the grease gun can be easily detached after charging.
Convenient usage is something this grease gun can proudly offer. It has a minimalist design that is not just pleasing to the eyes but also very friendly for first-time users.
This tool may be the right grease gun for professional mechanics. But, it is also recommended for amateurs, even for regular car owners. It does a decent job in lubrication even for first-timers.
Features and Details
Before going into the details of personal experiences of certified users of the Dewalt Cordless Grease Gun 20V, here are some of the features that this grease gun claims to offer:
• It comes with a powerful motor that can deliver a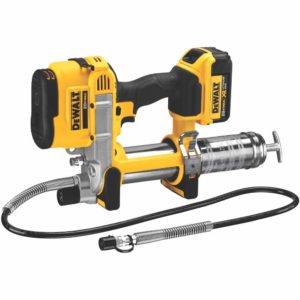 maximum of 10,000 psi through clogged grease fittings.
• Has a high-volume pump that can push up 5 ounces per min of grease application.
• The use of a single Dewalt 20-volt max battery can use up to a total of 16 cartridges.
• Precision grease flow control with its variable speed triggers.
• It easily goes through hard to reach grease fittings with its 42-inch long and flexible hose.
• It allows seeing grease fittings in low light with its bright LED light.
• Pump comes with a filter screen to keep contamination and dirt from clogging the pump.
• It comes with a no-mar foot design that lets the user easily rest the tool on any flat surface.
• Its air bleeder valve allows easy pump priming for every cartridge change.
Package Inclusions
According to many of the verified users, when they bought the Dewalt Cordless Grease Gun 20V, it came with a kit box.
And in this box, there is a shoulder strap, a fast charger, and 20V MAX XR 4.0 Ah premium lithium-ion battery. All of these came with the 20V MAX cordless lithium-ion grease gun.
They have decided to get all of their 20V tools from Dewalt so they will not have to worry about using different batteries for each of them.
The battery capacity of the device can power it up for several hours of work. This means that there will be no interruption for single lubrication jobs.
Ever since they have been using manual grease pumps on a number of my equipment and machinery, it took them a long time to lubricate each of them.
But after getting this grease gun, the average lubricating time that they are used to doing is now cut in half. It is very convenient to use due to its easy priming feature.
It comes with enough pressure to blow through any plugged fittings. And the best part is that they no longer need to do any hand pumping.
In Conclusion
With regards to the price, this grease gun has quite a reasonable price tag. With all the power and feature that this grease gun has to offer, you won't even have to worry about its cost.
As with many of the feedbacks of the users, the Dewalt Cordless Grease Gun 20V is by far the most convenient grease gun they have ever used. It is very easy to use even for first-timers.
Summary
Reviewer
Review Date
Reviewed Item
Dewalt Cordless Grease Gun 20V
Author Rating